Sir Tom & Sir Bobby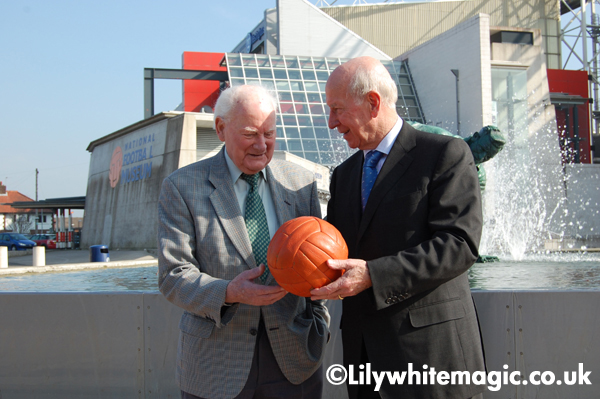 This photograph was taken by Dave Bond outside the National Football Museum on Wednesday 18th March 2009.
Sir Tom Finney and Sir Bobby Charlton discuss the ball used in the 1966 World Cup Final.
In April 1958 Sir Tom crossed the ball for Sir Bobby to score his first international goal with a stunning volley in a 4-0 victory over Scotland at Hampden Park.
By Dave Bond
Growing up as a child in the North East Bobby Charlton could afford to watch little football at St. James' Park home of Newcastle Utd. However, along with his brother Jack he especially looked forward to the visits of Preston North End & Blackpool, teams containing the illustrious Matthews, Mortensen & Finney. Central attacker Mortensen often powered goal wards a header from a cross supplied by the sublime winger Matthews. Sir Bobby was amazed by the skills of Finney who often left his opposing full back on his backside.

In the late '50's after several games for England Bobby wanted to settle a query he had with Mortensen. He asked why after he had scored from one of Matthews' crosses he would always run across to shake the wingers hand but if it was a Finney cross he would not bother. Referring to the leaden balls of the time he replied that Stan would ensure that the ball arrived at his head with the laces facing away thus avoiding any fearful lacerations.
This tale is often inverted depending on ones affiliations but one thing is sure, Sir Tom Finney remained one of the few players the future World Cup winner would pay to watch.

He related to me how proud & astounded he was on making his England debut playing alongside Sir Tom. How fitting it should be that Sir Tom supplied the cross for his first England goal & as the rest of the England team celebrated all Sir Tom could do was help up the Scottish full back that he had just put on his backside.
Prior to the Sir Tom Finney Gala night in 2009 I was sneaking a fag outside the National Football Museum where I worked. I noticed a posh car pull up & out stepped Sir Bobby Charlton. I hurriedly dumped the fag & stepped forward to greet him. Welcoming him with a nervous handshake I wondered what the correct protocol was when Sir Tom Finney then approached. Ignoring me Sir Bobby rushed to greet him as I retreated, feeling unable to say a word but wonder about the glorious tales these two shared. Sir Bobby feared he would be unable to make the tribute evening & wanted personally to show his affection to the 'Legend'.
The story behind the photo.

As the honorary (i.e. unpaid) photographer at the museum I was asked to take this photo of the esteemed Sirs holding the ball used in the controversial 1966 World Cup Final. The museum curatorial staff (an arcane, obscure breed) hurriedly produced the iconic item & passed Sir Bobby a pair of gloves before he handled it. With a frown he replied that if anyone could touch it without gloves it was himself. The staff member was herself a German & she looked suitably rebuked. Nervously giggling I could barely hold the camera still as I took this unique image.

In 1996 in a nationalistic fervour the ball had been acquired back from the defeated German finalist Helmut Haller by Virgin Enterprises & MG newspapers at a reported cost of £90,000 & in 2001 loaned to the museum.
During the build up to the 2006 World Cup finals I was selected to guard the ball for a few days in London for any possible promotional TV work. "Do not let it leave your side" the management admonished. This I duly did & it remains to this day the most expensive thing I've ever slept with!