Bill Shankly Kop
Sir Tom Finney Stand -- Bill Shankly Kop -- Alan Kelly Town End -- Invincibles Pavilion
Stand Built: 1998
Capacity (approx): 6,000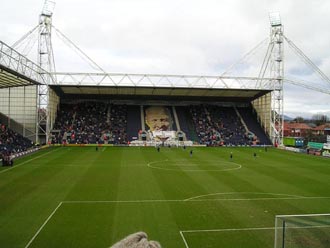 Cost: unknown
Stand Replaced: Spion Kop (Fulwood End) (Built 1921)
The Bill Shankly Kop was the second phase of the redevelopment of Deepdale which replaced the large terraced Spion Kop (also know as the Fulwood End, but always referred to as the Spion Kop by fans).
The Spion Kop was built in 1921, originally without a roof and built on what was previously a grass bank. A few years later a roof was added, although this only covered the back part of the terrace and more or less left the large front area of the terrace uncovered. The front part of the stand was concrete terrace while the back part was largely wood.
As the years went on the Spion Kop fell into serious disrepair and poorly cared for, along with the rest of the ground. In the 80's a large part of it (towards the Pavillion Stand) was deemed unsafe and closed off to fans.
In 1997 the stand was finally closed after a Division Two game with Walsall. After a period of inactivity, the stand was finally demolished a month or two later.
The new Bill Shankly Kop was finally opened in 1998, named after the former PNE defender who also played a big part in the 1938 FA Cup win.
The stand housed the 'second half' of the National Football Museum whilst it was based in Preston (currently being used for storage) as well as the glass viewing box inbetween the stand and the Sir Tom Finney Stand. It also houses the Fitness First fitness centre and the Preston College Adult Learning Centre.
Despite this end being the traditional home end, this is where away fans sit. Usually away fans have upto half of the Bill Shankly Kop, but for large away followings this can be increased to the whole stand.