Invincibles Pavilion
Sir Tom Finney Stand -- Bill Shankly Kop -- Alan Kelly Town End -- Invincibles Pavilion
Stand Built: 2008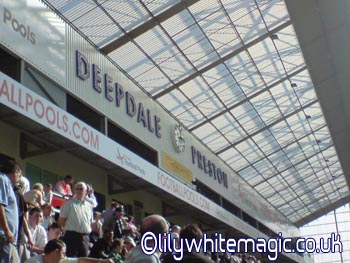 Capacity (approx): 3,400
Cost: £6-9m
Stand Replaced: Pavilion Stand
The final stage of redevelopment at Deepdale finally took place in 2007 with the demolition of the Pavilion Stand and the construction of the Invincibles Pavilion which was completed in August 2008.
Finance from the stand largely came from an agreement with the Preston Primary Care Trust who have leased a large part of the stand for a new health centre. The health centre, named Minerva Centre, opened early 2009.
The stand seats approximately 3,400 - somewhat short of the 5,000 which was stated when the plans were first announced. The middle area of seating is the premium area and costs more to watch the game from there. In the same area are the new "dugouts" which are built into the stand.
New executive facilities also feature in the stand with approx 22 executive boxes which are mixed in size. Each one that has been bought has been named after a former player. The stand also contains the Invincibles Lounge and the Guild Lounge - the latter being the more 'formal' (you can just wear your normal clothes in the Invincibles Lounge).
There is a small tier and a large empty space above the seating area - this can be filled with more executive boxes should the need arise. A second tier can also be added if North End ever make the Premiership.
As well as the actual stand, a new car park has been constructed on the site of the old training ground which drasticaly increases the number of parking spaces at Deepdale.