Guide to Preston
Directions -- Pubs -- Map
If you're planning on a visit to Deepdale you might like to know more about Preston. This section tells you how to get to Deepdale and what you can expect of Preston.
A full guide about directions, pub recommendations etc is available at www.footballgroundguide.com
Getting to Deepdale
By Road
When on the M6 turn off at Junction 31 (Tickled Trout) and keep left. Head straight up the hill (New Hall Lane) until you get to a roundabout situated outside the Heskeths Arms pub and Preston Cemetery. Turn right and head straight down Blackpool Road.
You certainly won't struggle to find Deepdale due to the floodlights.
Walking
Upon arriving at Preston Railway Station, head straight out the main entrance past the taxis. The road at the top is called Fishergate so turn right and head straight down. This is the main high street in Preston so you will find it very busy.
Keep walking down - you'll pass HSBC, Barclays, Natwest, St George's Shopping Centre. As soon as you come across a church, the road becomes Church Street.
Keep walking to the end of this road and you'll reach a dual carriageway known as Ringway. Cross over (be very careful of course) and you'll pass Preston Prison.
New County Arms used to be situated on the next junction (now demolished). The road on the left is Deepdale Road so head straight down this road and you'll eventually reach Deepdale.
By Bus
Follow the above directions up until you reach Miller Arcade & Yates'. Head left down the road opposite Yates' (Lancaster Road) and head for the first Bus Stop (outside a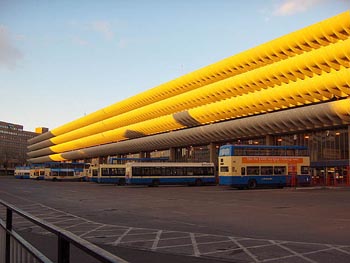 pub called 'Stanley Arms'). From here you can catch the number 19 or 19A Royal Preston Hospital bus to Deepdale. The fare costs £1.10 **Please be aware that these buses DON'T give change**
Alternatively, you can walk to the Bus Station. Just carry on walking down Lancaster Road until you reach the side of the Guild Hall. Turn right down this road and you'll come across the Bus Station. Either turn left and head straight for the subway or cut across the bus apron, although this is very risky.
Once on the Bus Station either catch the number 19 or 19A Royal Preston Hospital bus from Stand 19/20 or the 88A Orbit bus from Stand 17. Again, the fare is £1.10