Sir Tom Finney Stand
Sir Tom Finney Stand -- Bill Shankly Kop -- Alan Kelly Town End -- Invincibles Pavilion
Stand Built: 1995
Capacity (approx): 8,100
Cost: £4.4 million
Stand Replaced: West Stand (built 1906)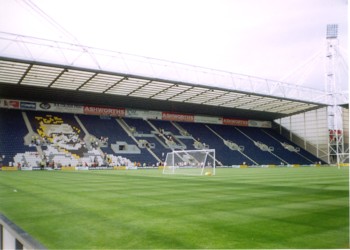 This was the first of the new stands to be built. This replaced the old West Stand in 1995 and was built at a cost of £4.4 million.
The original West Stand was built in 1906 and originally housed the changing rooms and offices. Redevelopment work was carried out throughout the 1995/96 season and was fully opened for the game against Darlington.
This stand also has the family area and the 'posher' premium area for executives etc.
As well as housing supporters and the 'usual' facilities, it also houses the corporate hospitality on matchdays.
It also has two bars - one in the 'Great Room' and one in the 'Invincibles Lounge'. Various events are held on a regular basis in the Great Room with catering provided by Heathcotes who are based in the Sir Tom Finney Stand.
Also based in the stand are offices, the press room and board room. The stand also housed the first half of the Natonal Football Museum unitl its closure in 2010.