Alan Kelly Town End
Sir Tom Finney Stand -- Bill Shankly Kop -- Alan Kelly Town End -- Invincibles Pavilion
Stand Built: 2001
Capacity (approx): 6,000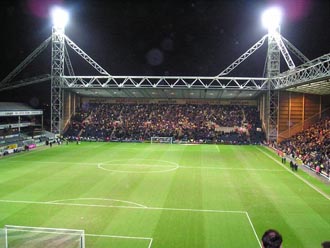 Cost:
Stand Replaced: Town End (1937*)
*The original Town End was built around 1934 but burnt down and was later rebuilt.
This was the 4th phase of the redevelopment of Deepdale which was started after the National Football Museum was completed.
The Alan Kelly Town End replaced the old Town End which was terracing. The old Town End was demolished in March 2001 after its last game against Wolves (North End won 2-0).
The Alan Kelly Town End is name after a former player - goalkeeping legend Alan Kelly (snr) who made 447 appearances for North End from 1961-1975.
The stand was opened for the league match against Man City, which North End won 2-1.
The stand also contains the home and away changing rooms as well as player entrances and the players tunnel leading out onto the pitch. It also houses facilities for Football in the Community and a learning centre for children.