The Past 10 Years
As part of 'celebrating' the site's 10th birthday, I have introduced this section looking back on the past 10 years at a glance where you can recall what happened as well as reading my opinions.
To begin, I look at the 2002/2003 and 2003/2004 seasons with other seasons to follow shortly after.
2002/2003 Season
Well 2002 proved to be an eventful year as in March David Moyes had left the club to join Everton and former Scotland manager Craig Brown had taken his place a few months later.
Come October when this site started, the new season was well underway and North End were adjusting to new life under Craig Brown and chairman Derek Shaw. Its fair to say that North End had made a very slow start by picking up only 2 wins but that included a very entertaining 4-3 win over Stoke. It was quite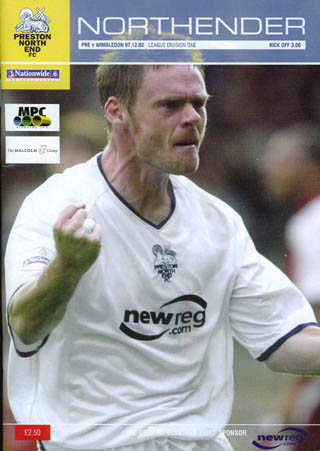 remarkable given that PNE were 3-1 down! It was only a few years previously that North End had lost the same fixture by the same scoreline after being 3-1 up!
It wasn't towards the end of October that North End picked up our third win of the season - a 1-0 home win over Reading.
As the season continued, it didn't really get much better for North End as we continued to suffer from the 'Moyes Hangover' - we managed a fantastic 3-1 home Derby win over Burnley but the ultimate low point came in January when North End were knocked out by Third Division Rochdale (managed by future PNE manager Paul Simpson). Very embarrassing.
North Ends' form continued to remain patchy (well results wise!) but it was fair to say that the performances weren't exactly brilliant.
The one bright spark of North End's season was the talented Ricardo Fuller who certainly made a lasting impression despite his first season being curtailed due to injury in the game away to Coventry in November.
North End ended the season with a disappointing 2-0 defeat away to Norwich and finished the season in 12th position - somewhat disappointing when compared to the previous two seasons although its fair to say that North End's away form was the 'deciding factor' by only winning five games whilst losing twelve.
Overall, it was a season of very mixed fortunes - a fairly decent home record and we signed some players that turned out to be very influential to North End, most notably Ricardo Fuller, Eddie Lewis and Brian O'Neill. On the downside, we were introduced to players who made their mark in the wrong way, most notably Marlon Broomes and the 'Scottish Michael Owen' Simon Lynch!
2003/2004 Season
Just like the previous season, this was one of disappointment as North End recorded a total of 17 defeats and finished in 15th place. Certainly not good enough when fans had expected an improvement but in turn what we were dished up was absoluetly abysmal. At the time, it was probably the worst football I had seen North End play and almost everyone, myself included, grew disgruntled at Craig Brown and his style of 'football' and decisions.
The season started on a bad note with 3 defeats from the opening 4 games, but come the middle of September to middle of October, North End hit a good patch by winning 5 games from 6. Come January though and the rot started to set in. At the end of the month North End were humiliated by Third Division Swansea City (how times change!) in the FA Cup. I remember that like it was yesterday and remains one of the lowest moments I've ever felt in my North End-supporting lifetime. We were simply awful and I was beginning to think there was no way back for Craig Brown.
After the Swansea debacle, we won only another 3 games that season but the final straw for me was the 5-1 defeat away to Derby. That was without doubt the worst performance of the season and I had reached the end of my tether with Craig Brown - the performances we were putting in were just completely unacceptable and painful to watch. Some fans may remember the Derby game for other reasons though - a certain matter of shirt throwing! I wasn't exactly subdued myself - I completely lost my rag and uttered a lot of words that can't be repeated on here! (although I probably owe those that were sat around me a long overdue apology!).
Looking back on the season, there were still a couple of high points most notably the 5-3 win over Burnley - how can anyone forget that and Fuller's remarkable hattrick?! That will live long in the memory and without doubt one of the best derby games I've ever watched.

Overall though, the season was one to forget but I had made my mind up about Craig Brown. I had seen enough of his style of football and he had to go.