Away Days - Wolverhampton Wanderers
First Impressions -- Around the ground -- Facilities -- The Stand -- Overall --
Fixture: Wolverhampton Wanderers V Preston North End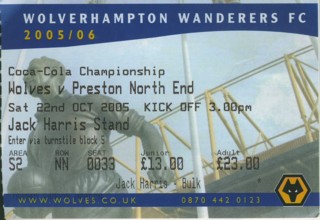 Competition: Coca Cola Championship
Ground: Molineux
Date: Saturday 22nd October 2005
Kick off: 3.00pm
Final Result: 1-1 Etuhu
This was my second trip to Molineux, my first being back in 2001. Obviously I already knew what to expect so there isn't a great deal I can really say.
Anyway this time we came by coach and came into Wolverhampton from a different direction. My 'first' glimpses of Molineux came as we travelled up the ring road to the coach park. Just like last time the ground looked in very good shape and well maintained.
Upon getting off the coach we made our way down to the Steve Bull Stand and to a programme seller. It was good to see Wolves and PNE fans mixing freely and just further strengthen my opinion that Wolves have a great set of fans, rather than certain other people's deluded views that they're hooligans/terrorists/murderers etc!
After purchasing a couple of programmes it was time for our usual stroll around the ground. We headed straight up to the Jack Harris Stand (South Bank). From here you can get a fairly good view of the seating area of the Jack Harris Stand.
We headed further around the back of the Jack Harris Stand and onto the Molineux Hotel. Last time I came this building was derelict but I was glad to see this time that renovation and restoration was well under way.
Past the Molineux Hotel we made our way down to the Billy Wright Stand. Again there isn't a great deal I can say that I haven't already said before. The stand still looked new and was still well maintained. The statue of Billy Wright in front of the stand, I thought was the 'icing on the cake' and rounded off the ground (not just the stand) very well.
Past this we made our way into the club shop so my Dad could purchase a obligatory fridge magnet! Although the shop itself was excellent the access was poor as it was hard getting in and out with it being a matchday.
We then made our way past the Stan Cullis Stand and another well-placed statue. Again, this stand was very smart and well maintained. This was the last side of the ground we saw and we then headed back up towards the Jack Harris Stand.
This is one area I can freely comment on again as this time we were situated in the Jack Harris Stand.
The facilities in this stand were excellent. It wasn't just one concourse but two - the other being on an upper level which I found to be a good idea. The lower level bars were organised well as there were seperate 'queue' areas seperated by rails. Again this is another good idea and prevents a 'scrum' which is usually the case at Deepdale.
During half-time we used the upper level concourse as our block entrance was on that level. It was surprisingly well organised and no need for a 'fight' to get through to the toilets.
The toilets themselves were in a clean, well-maintained condition.
The only downside to all this was the price of a pint of Carling - £2.70!!
As said before, this time we were situated in the Jack Harris Stand whereas last time we were in the Steve Bull lower tier (then called 'John Ireland'). Best thing about this is that I experienced another ground again but in a different stand.
The view from the stand was excellent and I favoured this stand more as I prefer sitting behind the goals. The legroom was equally as good and quite spacious.
The North End faithful were also able to create quite a lot of noise in this stand too. Last time it was more difficult as the Steve Bull Stand is more 'open'.
It was another enjoyable away trip to one of my favourite grounds. The performance by North End was very good (although still not 'top') and the result was pleasing. It was a tad disappointing not to win though!
A downside to the whole day was my digital camera playing up - I lost all my pictures of Molineux, which incidentally, was one of the reasons why I wanted to re-visit the ground!
Ratings
Appearance: 10/10
Facilities: 9/10
Enjoyment: 9/10
Fans: 8/10
Stand: 9/10

Overall: 9/10