Away Days - Watford
First Impressions -- Around the ground -- Facilities -- The Stand -- Overall -- Pictures
Fixture: Watford V Preston North End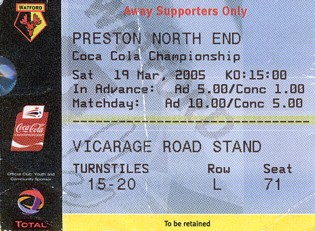 Competition: Coca Cola Championship
Ground: Vicarage Road
Date: Saturday 19th March 2005
Kick off: 3.00pm
Final Result: 0-2 Nugent, McKenna
This was another long-ish trip down to another away game. This time it was Watford at Vicarage Road. My Dad had been the season before and told me all about the place and the fans so I had a fair idea of what to expect. The added bonus of a sunny, hot day just seemed to make the day even better.
The coach stopped off on Vicarage Road directly behind 'our' stand. My first impressions were that it was a bit on the 'bland' side but at least it was pretty tidy.
I was particularly impressed with the turnstiles, strangely enough.! I felt it gave off a good 'modern' effect and gave the overall appearance a nice touch.
After getting off the coach there was still an hour till kick off so I decided to take my usual stroll around the ground and get some pictures.
First port of call was walking down the alley behind the East Stand. To be honest I didn't find it anywhere near as bad as some people made it out to be (the exterior of the East Stand). Although it obviously had seen better days it was certainly not the worst i've seen.
Walking down the alley we came to the Rookery Stand. Again it looked a bit bland but it was still smart and modern, but I have seen much 'blander' stands at a certain other ground situated next to the M6! Unfortunately, after asking 2 kind Watford fans, we couldn't walk right round the ground so we had to go back the way we came.
After coming back out on Vicarage Road, we opted to take a walk down towards the Rous Stand. We came across a car park exit and realised just how tight it was for proper access around the ground - it appeared that Vicarage Road was the only 'access road'. This was probably the only real down point I came across, although it didn't really bother me much.
We then opted to go into the ground instead of hanging around any longer. After having a slash and buying a chicken balti pie, I took my seat and had a great view of both the pitch and the rest of the ground.
The concourse and facilities seemed to be pretty cramped - in fact it was more like a corridor than a concourse! Still, despite the squeeze trying to enter the toilets, they seemed of a good, clean standard and plenty of urinals so there wasn't the usual 'squash' you get at most grounds.
After having a slash (and washing my hands of course!) I took a few steps to the catering bar. Luckily I arrived early enough so there wasn't a big queue. To my horror though, beer wasn't served! This really annoyed me, but at least I had a pie.
As said above, the concourse seemed more like a corridor and the entrance and exit to the toilets was a squeeze. Still, other things made up for it.
Upon taking my seat I sat down to eat my chicken balti pie. There was plenty of legroom which I didn't expect since I found the concourse slightly 'cramped'. It was gratefully appreciated not only for added comfort during the match but also when the usual riff raff that trundle past to get a pie or go to the toilet.
I also found the actual seat the most comfortable I've ever sat on! Seems strange for me to say that since I prefer terracing to seating, but it was pure comfort all match.
This was another fantastic away day. Decent performance by North End (well 2nd half!), great atmosphere created by our traveling support, good ground, good food and bloody nice fans too! Without doubt Watford fans are some of the nicest i've met and they'll be warmly welcomed back up at Deepdale for their future visits.
Ratings
Appearance: 8/10
Facilities: 8/10
Enjoyment: 10/10
Fans: 10/10
Away Stand: 8/10

Overall: 9/10