Away Days - Swansea City (Vetch Field)
First Impressions -- Around the ground -- Facilities -- The Stand -- Overall -- Pictures
Fixture: Swansea City V Preston North End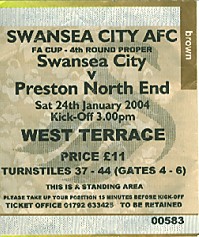 Competition: FA Cup 4th Round
Ground: Vetch Field
Date: Saturday 24th January 2004
Kick off: 3pm
Final Result: 2-1 Etuhu
All the supporters coaches had parked almost immediately outside the away stand (west terrace) so I immediately got a glance at the stand we were going to be standing in.
Needless to say I was not impressed! It seemed to be a 'mess' and didn't seem to have had much 'attention' paid to it for a long while.
Around the ground
We weren't given the choice of being able to look around the outside of the ground so instead we opted to go straight in.
After seeing the stand from the outside I was wary of what we would find the stand like once we were actually in!
Once in we weren't impressed with the facilities, but i'll talk about that below.
Opposite our stand at the other end was, without doubt, one of the strangest stands i've ever seen! I was also puzzled as to why they had red, green and blue seats instead of the more appropriate colours - black and white.
The ground as a whole seemed very 'tired' and dated and it was obvious that it hadn't had a lot of work done to it in recent times.
But to be fair to Swansea, at least they're building a new stadium and without doubt it will help them progress further as a club.
Well I have a lot to say about this! The facilities in our stand were, without doubt, the worst I have ever experienced. They were dreadful to say the least!
The toilet facilities were just basically some kind of 'shed' - no proper toilets and you literally had to piss against a wall! My girlfriend had also complained about the women's toilets too - soon as she came out she was complaining that it was a shed!
The catering facilities were no better either - just basically a Kenco Coffee jar!!
The stand was obviously a terrace, which pleased most fans who prefer standing rather than sitting.
We were able to create quite a good atmosphere in this stand which made up for the piss-poor facilities (excuse the pun!).
I was curious to wonder why the front of the stand was closed off - it seemed a complete waste of space.
I thought the ground was very 'tired' looking and dated and also run down. There's no doubt that Swansea will benefit from the new stadium they're currently building.
Still, it was a good day out even though we lost (embarrassingly!).
Ratings
Appearance: 5/10
Facilities: 2/10
Enjoyment: 7/10
Fans: 7/10
Away Stand: 7/10

Overall: 6/10