Away Days - Stockport County
First Impressions -- Around the ground -- Facilities -- The Stand -- Overall -- Pictures
Fixture: Stockport County V Preston North End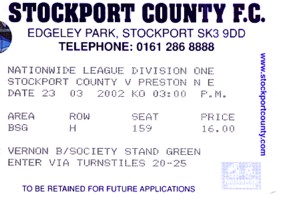 Competition: Nationwide Division One
Ground: Edgeley Park
Date: Saturday 23rd March 2002
Kick off: 3pm
Final Result: 0-2 (McKenna, Cresswell)
After walking down the road and arriving at the ground I thought I had taken a step back in time! The Main Stand looked like something out of the 30's and I was surprised this stand hadn't been redeveloped.
I assumed the rest of the ground would be in a similar state and hoped the stand we were in wouldn't be quite as 'old fashioned'.
It was impossible to go round the whole outside of the ground without having the go through the turnstiles, so all I could see from outside was just the Main Stand and the Cheadle Stand.
The Cheadle Stand was the newest of the stands and was quite large and modern although I thought whoever designed the back of the stand should be shot!
From what I saw it was quite an old fashioned ground apart from the Cheadle Stand
The stand we were sat in was a former terrace so I expected the facilities to be pretty poor. I was quite surprised as the facilities were ok and better than I expected, although there was some graffiti.
The stand was a former terrace so I expected it to be poor. As always with seats on former terraces, the leg room was quite poor and the view wasn't quite satisfactory with a supporting pillar in the way.
Like the Main Stand opposite, it was quite old (apart from the facilities) and overall I thought the stand should be replaced.
Although I thought the ground was quite old fashioned, I also thought that the ground had 'tradition' - especially with the main stand. It was a good day out and enjoyable.
Ratings
Appearance: 7/10
Facilities: 7/10
Enjoyment: 8/10
Fans: 8/10
Away Stand: 6/10

Overall: 7/10