Away Days - Sheffield Wednesday
First Impressions -- Around the ground -- Facilities -- The Stand -- Overall -- Pictures
Fixture: Sheffield Wednesday V Preston North End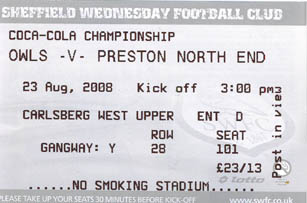 Competition: Coca Cola Championship
Ground: Hillsborough
Date: Saturday 23rd August 2008
Kick off: 3.00pm
Final Result: 1-1 Chaplow
This ground was certainly on my 'hit list' of grounds to visit. This was my first away game of the season as I decided against going to Ipswich due to the disgraceful prices.
I already had in my mind what to expect of Hillsborough - a good, traditional football ground but showing its age a bit. I was not wrong, although that wasn't necessarily a bad thing.
Upon arriving at the ground, the coach pulled up outside the away end - the West Stand. This stand certainly looked to be showing its age a bit and looked like it could've done with a bit of a tidy up.
I knew it is a big ground (obviously) but you don't really get to see just how big until you get inside, which i'll describe further down the page.
As always, I took my usual stroll around the ground. I had arrived in plenty of time so there was really no rush to go in.
I first walked down towards the South Stand and underneath the tunnel there. It certainly reminded me of Old Trafford in a way. It was kind of hard to get an overall impression of the stand since it backs onto a river.
I then carried on walking round the back of the Kop and onto the club shop. The Kop certainly looked 'imposing' even though it wasn't particularly 'eye-catching'. It was then onto the club shop and I wasn't particularly impressed with that. It seemed massive but the range of merchandise on offer seemed very poor - it was largely replica tops and other clothing.
After wandering round for a while, I made my way back to the away end whilst purchasing a matchday programme and a copy of the new PNE fanzine - Degsy's Midnight Runners which were both excellent reads. It was then through the turnstiles and up the flight of stairs into the stand.
Upon taking my seat, I was quite in awe of how big the ground is. Just a shame I was so high up as I couldn't see parts of the ground including the gable. It certainly looked impressive and as I said with the Kop earlier, it looked very imposing too.
The facilities weren't absolutely fantastic but they weren't bad either. I didn't use the catering bar (which was 'caged in!') as I wasn't really hungry,
The toilets were ok and I was grateful for the window sill to put my programme & fanzine on whilst I had a quick slash!
The concourse itself seemed spacious so there was plenty of room to move about and there was no problems exiting the ground after the match.
The West Stand was a mix of good and bad really! It was showing its age from the outside (as I said earlier) and the facilities were ok, but what really let it down was the pillars (although only one of them affected me). If it wasn't for the pillar in front it would've been an absolutely fantastic view and possibly one of the best i've experienced, sadly it wasn't to be.
Another slight downside was the leg room, which was a bit tight, but I have experience a lot worse.
The plus side to it is that potentially you could create quite a lot of noise.
North End were lucky to get a point - we were awful. We seemed to get going after Hawley & Wallace came on and it was a moment of brilliance from the latter that helped get us our equaliser.
Despite the poor game, I enjoyed my experience of Hillsborough and glad I got another ground ticked off. Although it could do with an upgrade and a lick of paint in parts, overall I thought it was a very good ground.
Ratings
Appearance: 8/10
Facilities: 7/10
Enjoyment: 8/10
Fans: 6/10
Away Stand: 7/10

Overall: 7/10