Away Days - Sheffield Utd
First Impressions -- Around the ground -- Facilities -- The Stand -- Overall -- Pictures
Fixture: Sheffield United V Preston North End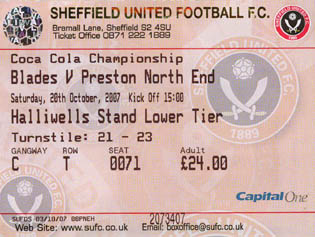 Competition: Coca Cola Championship
Ground: Bramall Lane
Date: Saturday 20th October 2007
Kick off: 3.00pm
Final Result: 1-1 Carter
For a while, this was one of the grounds that I had most wanted to visit, so for the 2007/2008 season I made it my aim to visit both United and Wednesday.
As usual, the first glimpses I got of the ground were on the coach. The coach was parked along Bramall Lane behind the Halliwells Stand, where we of course would be sitting. I thought the stand looked smart and in very good condition. I knew it had been re-cladded a year or two previously but they had certainly had done a very good job, along with the extension of the stand.
I had also noticed the hotel development at the other end of the Halliwellls Stand. This was some indication of Sheffield United's intentions for Bramall Lane. They had certainly did a very good job of previous developments.
In what seems to be coming my away day routine, the first port of call was to buy a programme which seemed a decent read, and then it was off round the ground to take pictures and get an impression of the ground.
I wasn't disappointed to say the least. I took a couple of pictures of the impressive John Street Stand then we walked further round past the Kop then onto the 'Global Windows' Stand. Despite it being built over 20 years ago, I thought this stand looked in very condition. Again, I knew this stand had also received some "care and attention" in the past year or two and I was very impressed with it.
After our 'little tour' we went into the club shop so my Dad could try and find a fridge magnet. Alas, they didn't have any so he had to settle for a pin badge!
I thought the facilities were quite good, although they could've done with more toilets.
I decided against buying a beer before kick off and at half time - £3.20! They can sod off! An extra catering bar could've also been a welcome addition, but other than that I thought the facilities were fine.
Although we were in the lower tier of the stand, the view of the action was actually very good. Nothing to obstruct the view, which is always a main plus point in my book.
The North End faithful were able to make a great deal of noise, myself included of course, but whether this was able to add to the general atmosphere is hard to say - especially being in the lower tier and the roof being high up.
The leg room was a little tight to be honest, although most Northenders including myself stood up for the most of the game. Although a lot of fans were stood up for quite a while, this made a jumped-up steward go on a power trip.
I enjoyed the day out despite another trip without a win! Thought North End lacked punch in attack although we defended very well.
I was very impressed with the ground and it certainly goes down as one of my favourites. A modern ground but with a 'traditional' feel to it.
Ratings
Appearance: 9/10
Facilities: 8/10
Enjoyment: 8/10
Fans: 9/10
Away Stand: 8/10

Overall: 8/10