Away Days - Middlesbrough
First Impressions -- Around the ground -- Facilities -- The Stand -- Overall -- Pictures
Fixture: Middlesbrough V Preston North End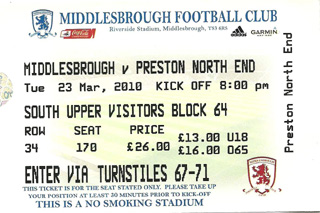 Competition: Coca Cola Championship
Ground: Riverside Stadium
Date: Tuesday 23rd March 2010
Kick off: 8pm
Final Result: 2-0
This ground is quite often criticised for being a 'boring bowl' and looking like so may others, but to be fair it was the first. I wanted to get another ground ticked off so thought this was an ideal time to do so.
We travelled more or less the same way we went to Newcastle (but obviously taking an earlier turn-off) - straight up the M6 and through some beautiful countryside.
My initial thoughts on arriving at the round that it didn't look too bad. In fact, I thought it looked quite good, but that was probably because it was a night match and the lighting contributed to the 'overall feel' of the ground. It looked pretty smart and well maintained from the outside.
We had arrived at the ground with plenty of time to spare so we had a wander round to the club shop and had a look at the statues & gates.
These were very impressive and I also liked how it was lit up round this area - not just the stand but the statue and gates too. The main stand frontage was a bit imposing - I thought it looked fine but have seen better (for example, Pride Park. Now I know that's a similar looking ground, but I think their main stand is a lot more imposing & impressive).
After a wander around and a visit to the club shop we decided to head inside.
Inside the ground I wasn't particularly impressed. Of course with it being a bowl ground I knew what to expect, but there didn't seem to be any stand out features to seperate each stand from the rest, apart from the row of executive boxes in the main stand. All in all, it looked a tad boring.
With it being a 'modern' stadium (if you can still call it that after 15 years), I had expectations that the facilities would be of a good standard and needless to say, they were.
There were enough catering bars there for our following so getting served wasn't a problem. I didn't buy anything myself as I had a burger from outside but my dad had a bottle of lager. I usually opt out now when it comes to drinking in grounds - I haven't drunk chemical fizz for quite some time and have no intention of drinking it again!
The concourse was spacious enough to so moving around wasn't a problem and certainly wasn't a tight squeeze like at other grounds i've been to.
The toilets were also of a good standard and there was certainly enough - no waiting around for ages at the end of the game, which was a big plus.
The stand was a decent one the watch football from, as you would expect. Due to our low allocation, the bottom bit of the stand was 'netted' off so we were sat higher up the stand. In this instance, we were a few rows from the top.
The view from the stand was excellent - despite being sat quite high up we didn't feel miles away from the pitch and we had a good view of the opposite end too. The legroom was also excellent as well - always a must when it comes to all-seater stadiums/stands.
Our fans were able to create a bit of noise, again most likely down to being sat high up & the roof giving us decent acoustics. Of course, there are stands at other grounds with much better acoustics.
It was another frustrating defeat on the road, although its one we should've actually won rather than lost.
The ground itself, overall I felt it was a decent ground but nothing particularly special. The frontage with the gates and statues I particularly like the most as well as the ground being lit up.
Its a decent ground but certainly the outside of the ground was more particularly 'interesting' than the inside.
Ratings
Appearance: 7/10
Facilities: 8/10
Enjoyment: 7/10
Fans: 7/10
Stand: 8/10

Overall: 7/10