Away Days - Derby County
First Impressions -- Around the ground -- Facilities -- The Stand -- Overall -- Pictures

Fixture: Derby County V Preston North End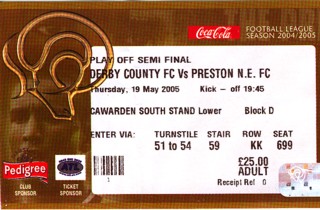 Competition: Coca-Cola Championship Play Off Semi-Final 2nd Leg
Ground: Pride Park
Date: Thursday 19th May 2005
Kick off: 7.45pm
Final Result: 0-0 (PNE win 2-0 on Aggregate)
This was my third trip to Pride Park and my second in 11 days. I did intend on writing a review but I thought it was better to write about the play-off semi-final since the nightmare journey completely ruined the last match (only arrived 5 minutes after kick off!).
Anyway as said this was my third trip to Pride Park. I already knew what to expect so there isn't a great deal to write about regarding first impressions!
I arrived at the ground a good 2 hours before kick off, although it took the coach driver (and a few others) at least 10 minutes to get to the right car park as we had entered the wrong one!
Upon getting off the coach it was a very nice day and very warm - great conditions for an away day experience. I had 2 hours 'to kill' and had no idea what to do since it was a long time since the turnstiles would open. I stood around outside the away end, I had bought a programme so I read that for a while.
After hanging around like a lost person for a while I decided to take a stroll around. I made my way past the away end and round to the West Stand. There was more 'hustle and bustle' round here as fans waited a good half hour for the players and coaching staff to arrive. During this time I took the perfect opportunity to take some pics before it got really busy. The West Stand looked fantastic with the sunlight shining on the glass frontage - this is one of my favourite areas of the ground. Not only did it look impressive close look but even more so when glanced at from a distance.
I stayed around this area until after the players had gone in and made my way back round to the East Stand. I went round the North end of the ground this time - I hadn't been round this area on my first visit. A grass verge at the back of this stand seemed a good place for people to 'doss around' before the turnstiles opened.
I carried on, after taking a pic, back to the away end and by this time the turnstiles had opened. I opted to just go straight in despite there still being just over an hour till kick off.
After entering the stand I was surprised to see everyone else had the same idea - the concourse was completely packed. I struggled to get through as I made my way to the toilets.
There isn't much I can expand on what I said in my first review. The toilets were still well-maintained and there were plenty so I didn't have to queue for very long.
On my second visit to the ground, I sat much lower than last time - Row DD to be exact. It wasn't a very good view from there due to the nets being in the way and I also got drenched when the heavens decided to open! This time though I was sat a bit higher up on Row KK. This was a better view although I would have preferred to have been sat more or less where I was on my first visit.
In terms of creating an atmosphere, this stand is excellent. Although the roof wasn't low, a great deal of noise was created - possibly with the help of the ground being completely enclosed.
The legroom and comfort were fine, although I badly hurt the back of my leg after the final whistle celebrating!
The last two trips were ones to forget! This trip more than made up for them. This time I really enjoyed it although I was very nervous!
Again its hard to expand on what I said in my first review, but it is an excellent ground although I probably won't visit it again for a long while now since 3 trips have made me 'tired' of it!
Ratings
Appearance: 9/10
Facilities: 8/10
Enjoyment: 8/10
Fans: 9/10
Away Stand: 9/10

Overall: 9/10
*Unfortunately all pictures except the panoramic have been lost.*