Away Days -Coventry City (Highfield Road)
First Impressions -- Around the ground -- Facilities -- The Stand -- Overall -- Pictures
Fixture: Coventry City V Preston North End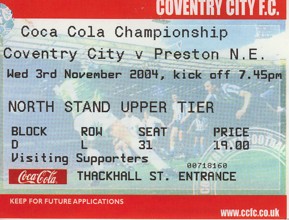 Competition: Coca Cola Championship
Ground: Highfield Road
Date: Wednesday 3 November 2004
Kick off: 3pm
Final Result: 1-1 (Lewis)
This was one trip that was high on my priority list since this is Coventry's last season at Highfield Road.
The coach driver had perhaps 'cut it a bit short' as we had only arrived half an hour before kick off despite going down the M6 Toll. My first glimpse of the ground upon arrival was of the East Stand - I wasn't almighty impressed with it as it looked rather 'bland' but it looked tidy in appearance. The fencing and the surroundings 'ruined' the overall appearance in my opinion.
After getting off the coach I took my usual stroll around the ground only this time I had to keep it short since the coach only arrived half an hour before kick off.
I walked round the outside of the North Stand trying to get an impression of the exterior of the stand. Again I thought it was rather bland and did have that 80's look about it (well it was built then I assume!). Still i've seen worse and it didn't look too bad.
Once inside the stand I stood on the little 'concourse' that divided the upper and lower tiers. I took a look at the 3 other stands and in my honest opinion they didn't look too bad - the one opposite looking the smartest.
After taking a few pics of the ground on the 'concourse' I went to the toilets which were quite odd as you had to go down and then up some steps - didn't have that 'privacy' you sometimes need! These looked dated and could have done with a lick of paint.
I then wandered to the catering bar - again had to go down some steps, up some more and through a door! I was quite surprised by what I saw - it looked more like a 80's style cafe but just missing the tables and chairs! Thought it did look a bit dated but it had some charm about it - especially the smell of burgers, pies etc upon entering (a real football 'smell' if you know what I mean!). I bought a chicken balti pie and went to take my seat. This was the first time I had tasted a chicken balti pie and needless to say it won't be my last! I now know why some of my fellow Northenders ask the question why these pies aren't available at Deepdale!
Just like the facilities, overall the stand was dated and as said before had that 80's feel to it.
Upon taking my seat I was non too impressed with the tight legroom although to be fair it wasn't as bad as others have made it out to be and it wasn't as bad as the South Stand at Elland Road.
As I said with the facilities, the way in which you entered the toilets/catering bar was rather odd as first you had to walk down some steps and then back up some more! It would cause problems if you intended walking back to your seat or the 'concourse' with a drink and food.
The view from the stand was more or less fine. There was a pillar to the left which blocked out the view from near the corner although this really didn't matter much.
This was my first mid-week away game and it was a quite enjoyable evening out despite the dull game. I was more satisfied with getting another ground under my belt and especially one which will be possibly turning into rubble by this time next year.
I didn't think the ground was as bad as some people made it out to be. Yes there were downsides such as the legroom but overall I didn't think it was too bad.
Ratings
Appearance: 6/10
Facilities: 6/10
Enjoyment: 8/10
Fans: 7/10
Away Stand: 6/10

Overall: 7/10