Away Days - Barnsley
First Impressions -- Around the ground -- Facilities -- The Stand -- Overall -- Pictures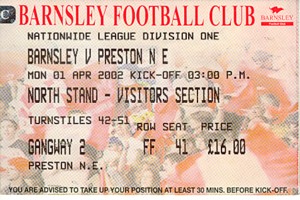 Fixture: Barnsley V Preston North End
Competition: Nationwide Division One
Ground: Oakwell
Date: Monday 1 April 2002
Kick off: 3pm
Final Result: 2-1 (Wijnhard 69)
On arrival at the ground my first glimpse of it was the West Stand (left). I had already read about the ground previously so I had some idea of what to expect.
Before entering the ground I decided to have a look round the ground first and I have to admit I was quite impressed with the smart appearance of the ground and I also noticed it had better car parking facilities than Deepdale!
Upon getting off the coach we took our usual stroll round the ground. We headed towards the south end of the ground as we passed the oldest stand at Oakwell - the West Stand.
We came across the Pontefract Road End (as it is now called). This was a relatively new stand, although I thought it was rather bland in appearance.
After taking a couple of pics we decided to head up back to the North Stand and take our seats. This is where I could get a better opinion of the ground. I wasn't disappointed. There was the very impressive East Stand to our left which was rather imposing and then the much older West Stand opposite. To be honest, despite the West Stand being old, it didn't look too bad and like other grounds which redevelopments haven't been finished, didn't look out of place.
The facilities in the North Stand were superb. No big 'scuffle' for the toilets and the catering bars seemed well placed, although I didn't sample any of the food.
Nothing much I can say really other than they were what I expected of a new stand!
The stand I was sat in was new and had excellent facilities, as said above. The leg room was good and the view from the stand was superb, especially from where I was sat.
Without a doubt, this is definitely without a doubt one of the best stands I've sat in - excellent facilities, good leg room, great view what more could you want?! Shame we put in a poor performance and lost though!
I was very impressed with Oakwell and enjoyed the day out, even though we played poor and lost. I've not heard many people comment on Oakwell and in my opinion does not get the credit it deserves.
Ratings
Appearance: 8/10
Facilities: 9/10
Enjoyment: 7/10
Fans: 7/10
Away Stand: 10/10

Overall: 8/10